Fr.Wilhelm Meyer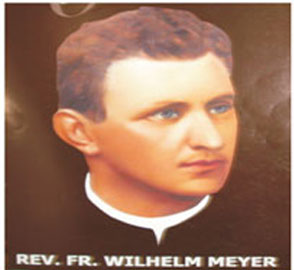 Founder of the Society of the Sister of St. Ann, Luzern
Born: 12.09.1870 in Schoetz, Luzern, Switzerland
Died: 08.02.1912 in Luzern
F. Wilhelm Meyer was born on September 12, 1870 in Schoetz, Luzern. He grew up in a true Christian atmosphere with twelve brothers and sisters. When he was young, his ambition was to become an architect. But the parish Priest Fr. Roos, diverted his aspiration to a different conduit. "You should become a priest" he said. This seed rooted in him deeply and with piety and strong will power, he was ordained a priest by Bishop Leonard Hass.
He came in contact with the poor and suffering through his visits to the Home for the Aged. His sympathy and understanding for these old people urged him to work for the poor people in Luzern.
Extremely troubled over the plight of helpless mothers- the pain of bringing to light their tender babies and the sense of abandonment that followed turned Fr. Wilhelm Meyer to the Cross of Jesus and the lowly manger in Bethlehem where Mary brought to life her Son. It was a moment of grace that prompted him to respond with genuine compassion to this crying need.
Against the rules of the Federal Constitution and the Church, Fr. Wilhelm Meyer along with his friend Von Matt founded a religious Society with secular characteristics and named it after Holy Ann, the Mother of Mary for its members(Sisters) to take care of mothers and children.
Be ever faithful to your motto, 'For Jesus'.
-Fr. Wilhelm Meyer