ST. ANN'S MATRIC. HR. SECONDARY SCHOOL
INTRODUCTION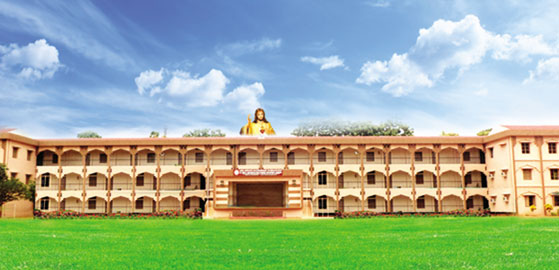 St. Ann's Matric. Hr. Sec. School, Madhavaram, affiliated to Matriculation Rec.No 28-M-0309-0519 is envisaged to be a standard Roman Catholic Educational Institution to be established, owned and administrated by the sisters of the Society of St. Ann. The institute would be affiliated to St. Ann's Educational Society, Vijayawada and would be administered by the Southern Province of the Society.
The Society of the Sisters of St. Ann is a Roman Catholic Society of religious women and was founded at the turn of the 20th Century by Fr. Regen Wilhelm Meyer, a Catholic Priest of Luzern, Switzerland. It was established "to bring effective help to the sick and mothers who were suffering; under the oppressive conditions of the time.
The Society reached the Indian shores within a short span of its inception, to be precise, on 27th December 1927 in answer to the expressed need and request for extending our ministry and apostolate to the Indian sub continent. Ever since the inauguration of the Indian foundation, education was discerned to be and has been an integral part of our mission an apostolate in India. In our educational apostolate, it has been our quest and mission "to care for the whole person even when material values threaten to undermine the spiritual and religious values". As of today in India the Society runs full fledged standard educational institutions, imparting quality education, using English or the vernacular as the medium of instruction.
AIMS AND OBJECTIVES
St. Ann's Mat. Hr. Sec. School, Madhavaram would be a co-educational institution, employing English as the medium of Instruction. The basic thrust and objective of the institute is to facilitate all round, balanced, standard sound and scientific formation of its wards sufficiently emphasizing the various dimensions of the human person intellectual, moral, religious, social and physical, without prejudice to any single one. It would be our endeavour to assist the students to grow into integrated personalities with healthy minds and bodies, possessing strength of character and capacity for hard work. The school would be a Catholic Christian Minority institution and our educational vision and programme is fabricated on the basic principles of Roman Catholic Christian Faith. As a Catholic Minority Institution, it reserves the right to administer the school according to the rights guaranteed under Act. 30/1 of the Constitution of India. The School would also undertake, without any prejudice the interests of the Nation and the Society to assist and guide and the growth of the Catholic students into deeper faith and communion with God and those around them. The school, however, would remain open and would welcome pupils of all communities, religions, castes and class without any bias or prejudice.